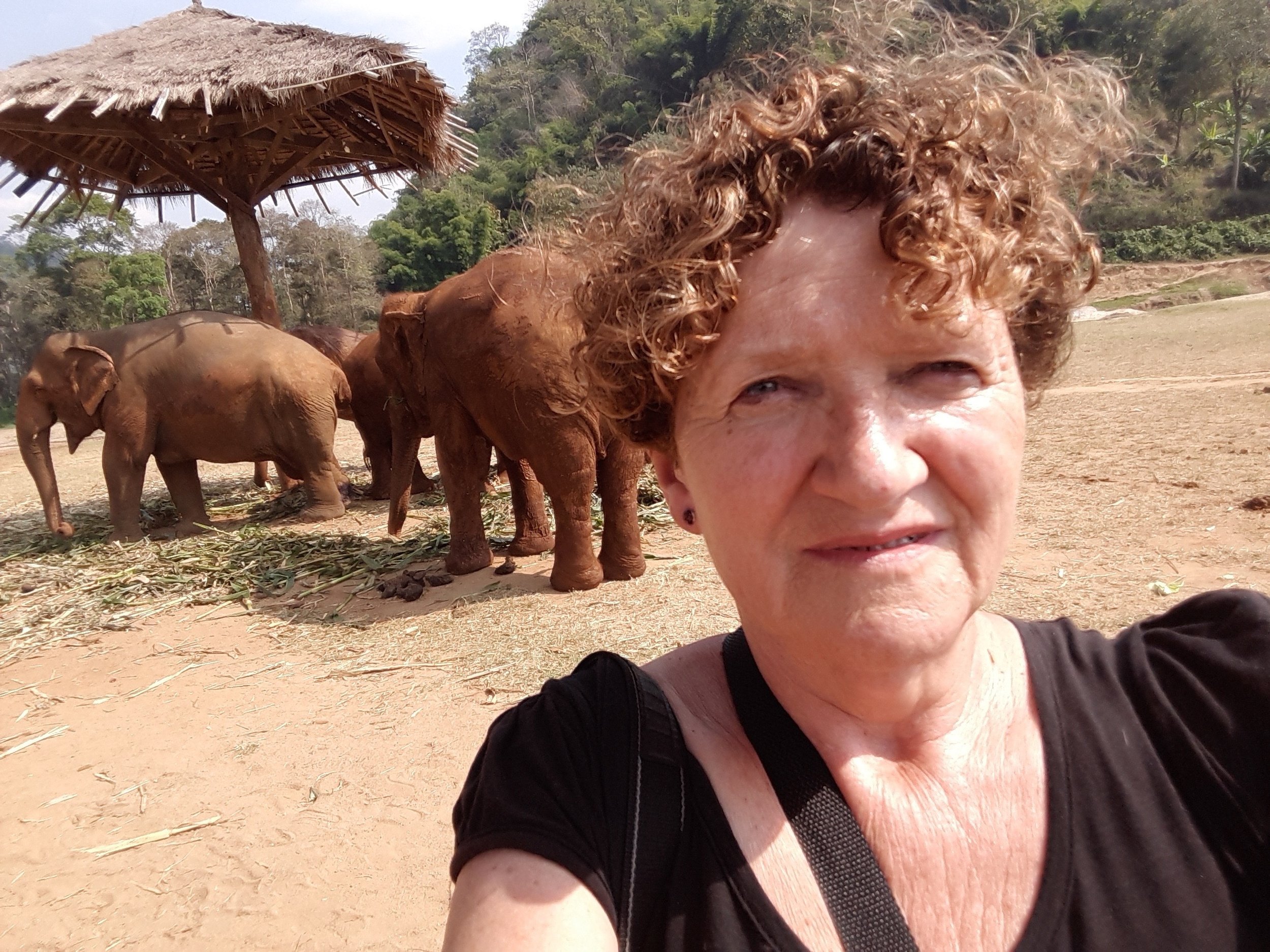 JANINE CAVIN
Co-Founder and Treasurer
Elephant lover, hiking enthusiast, and world-traveller, Janine Cavin is the Co-Founder and Treasurer of Global March for Elephants & Rhinos - Toronto. In her role as Treasurer, Janine oversees the budget of the organization, prices products, organizes sponsorship, arranges fundraising events, and coordinates outreach events.
Her "love affair" with elephants started at age 11 when she saw a chained elephant in a circus. She told her parents she wanted to run away with the circus because there was "an elephant that looked sad and needed a friend."
Janine's ongoing passion for elephants led her to join an activist group who were determined to move the Toronto Zoo elephants, Iringa, Toka and Thika, to the Performing Animal Welfare Society (PAWS). The campaign was a success! In 2013, Janine joined the International March for Elephants.
The first time she saw wild elephants was at Amboseli National Park in Kenya. It was a dream come true with picture perfect Mount Kilimanjaro in the background. She returned to Kenya several times. In 2016, she organized her own safari that she called "On the Trail of Elephants." She visited The David Sheldrick Wildlife Trust's nursery in Nairobi, and the Voi and Umani Springs Reintegration Units. She is currently fostering eight orphaned elephants.
In 2017, Janine travelled to Thailand to volunteer in a special elephant project to find out how villagers keep and treat their elephants. The villagers receive financial support from the project so that their elephants do not have to work in trekking camps every day where tourists ride them all day long. She also spent a week as a volunteer at the Elephant Nature Park in northern Thailand.
HEATHER CRAIG
Co-Founder and President
Elephant enthusiast and volunteer educator, Heather Craig is Co-Founder and President of Global March for Elephants & Rhinos - Toronto. As President, Heather is responsible for the overall functioning of the organization to ensure that the long term goals are achieved. She works with the board members to further the organization's mission of raising awareness about the poaching crisis. She also works with governments to push for a ban on the import and domestic trade of African elephant ivory, rhino horn, and other endangered species' body parts. Her main areas of focus are core strategy, fundraising, education, and outreach.
A trip to Kenya six years ago to visit The David Sheldrick Wildlife Trust (DSWT) strengthened her deep-rooted love for elephants. It was when the DSWT initiated a worldwide campaign to raise awareness about the elephant poaching crisis that Heather was prompted to co-found the Toronto chapter of Global March for Elephants & Rhinos. Her passion for these beautiful majestic animals continues with ongoing fostering of elephants Shukuru, Barsalinga, Roi Lemoyian, and Ndotto.
Heather has given educational presentations to Grades 7 and 8 students to raise awareness about the poaching crisis, and to introduce students to advocacy and social justice.
Heather is a physiotherapist. Her passion to help others easily translates into a focus and drive to help save elephants, rhinos, and other species from extinction.
Elephant and rhino advocate, Eva Bednar is Vice-President of Global March for Elephants & Rhinos – Toronto. She joined the organization in 2015. Her interest in elephants stems from the time that she saw an elephant rocking with loneliness in a Polish zoo: its misery was tangible.
Later during her travelling years, Eva was appalled by the death of Satao in Kenya in March of 2017, one of the mightiest tuskers. Though Eva believes in respect for all creatures great and small, particularly elephants and rhinos as some of the biggest and most intelligent of species, her specific interest as Vice-President is communicating that respect through educational visuals. In regular life, she teaches at Humber College.
Eva is the proud foster parent of orphaned elephant Boromoko of The David Sheldrick Wildlife Trust.
SIMI VADGAMA
Media Director
Animal rights activist and artist, Simi Vadgama is the Media Director of Global March for Elephants & Rhinos - Toronto. She joined the organization as a volunteer about three years ago.
Simi has loved elephants from a young age. As she grew up, she became very captivated and interested in learning about elephants and finding ways to help them once she discovered about their dangerous plight due to poaching.
As a member of the GMFER-TO team, Simi puts her passion towards advocating for elephants and rhinos and educating the public about what they can do to support its cause. As Media Director, she helps to organize and host GMFER-TO events, including the annual march. She also helped organize the first online auction, as well as organized and participated in several anti-circus and anti-trophy hunting protests.
Simi is also an active member of Toronto Fish Save, as well as the Campaign Manager of "Gods in Shackles," a documentary film directed by Toronto filmmaker Sangita Iyer. The film exposes elephant cruelty in religious temple events in Kerela, India.
Simi is a registered Early Childhood/Designate Supervisor at a childcare centre in Durham. She believes engaging young minds is vital to empower children with knowledge and understanding to be kind to all beings that we share our planet with. Everyone can make a difference - big or small. Simi says, "I will never stop being a voice for the voiceless!"
ADELE REYNOLDS
Content and Communications Specialist
Writer and endangered species advocate, Adele Reynolds is the Content and Communications Specialist for Global March for Elephants & Rhinos - Toronto. She created, manages, and writes content for the website, writes and edits various outreach communications, contributes posts to the public Facebook page, and participates in outreach for events. Adele recently joined the team when she met some group members at the 2017 People's Climate Change March. She ran up to the group and said, "You are my people!"
Adele's passion for animal welfare began from a huge love of animals at a young age. As time went on, she learned about environmental issues and the plight of endangered species, such as elephants and rhinos. This fuelled her to pursue an education in environmental studies and become an advocate for animals and for environmental protection and conservation.
Her writing and communication skills were honed in by a career of working in educational publishing. Her passion soared when she worked on two Geography books with an environmental-centered curriculum. She furthered her goal of educating and inspiring others to care about our planet and its endangered species by founding a blog site with associated social media platforms called Protect Our Planet Now.
Adele is also the Coordinator, Writer, and Communications Lead for Sea Shepherd Toronto. She feels that, between her website and her two active volunteering roles, she can help to save endangered species both on land and at sea. Adele believes strongly that "nothing is more important than saving a species from extinction" and that educating others – especially youth – is the key towards achieving positive planetary change.
MARYLOU SANTAGUIDA
Volunteer Outreach Advocate
From when she was very young, Marylou Santaguida always loved animals. She became active in advocating for elephants and rhinos after visiting The David Sheldrick Wildlife Trust in Kenya in July 2013. It was there where she became an ongoing sponsor for what she calls "precious orphaned beings." Once back in Toronto, she was thrilled to learn about the Global March for Elephants and Rhinos being held in October of the same year. She has been marching ever since and became a volunteer for Global March for Elephants & Rhinos – Toronto in 2015.
By September 2015, Marylou was an active animal rights activist and chose to live an ethical vegan lifestyle. After bearing witness at St. Helen's slaughterhouse and then watching the Forks Over Knives documentary, she made the connection that all animals want and deserve to live. She is involved with many animal rights groups including being a member and contributor to the Save Outreach Squad (SOS) of the Save Movement, as well as being an active volunteer with Direct Action Everywhere (DXE). She participates in outreach, vigils, leafleting/postering, protests, marches, workshops, work group meetings, education, petition signing, door-to-door campaigning, fundraising, and visiting sanctuaries. Marylou is very passionate and dedicated in fighting for the rights of all animals. Her motto is: Freedom for all. Justice for animals. Her favourite quote is by Martin Luther King Jr., "Injustice anywhere is a threat to justice everywhere."